Our Media Relations Officers are the official spokespersons for the Halton Regional Police Service and act as the primary liaisons between the police service and the media.
Communications for emergency and major incidents
Whenever feasible, the Halton Regional Police Service will provide information to the public on emergencies and major incidents. Such information is released through direct notification to media agencies and postings to our website and Twitter account. If necessary, the information will include alert or warning messages and instructions.
The immediate release of information will be dependent on public, victim and officer safety concerns as well as investigative integrity.
Are you a member of a media outlet and have an inquiry?
For media inquiries, please call 905-825-4899 or email CorpComm@haltonpolice.ca.
Hours of availability are Monday to Friday 8 am to 4 pm.
For after hours requests, please contact the on-duty Staff Sergeant for each district.
Oakville: 905-825-4777 ext. 2210
Burlington: 905-825-4777 ext. 2310
Milton and Halton Hills: 905-825-4777 ext. 2410
Posted on Friday, October 22, 2021 11:30 AM
The Halton Regional Police Service is issuing a Public Alert after responding to five non-fatal, unintentional overdoses overnight (October 21-22, 2021).
This is the largest cluster of suspected overdose-related calls since the beginning of the pandemic. In the month of October, we have attended 33 overdoses; 13 in the past week alone.
Locations
Four of the drug poisonings occurred in Oakville and one occurred in Burlington.
Substances
Fentanyl is believed/known to have been involved...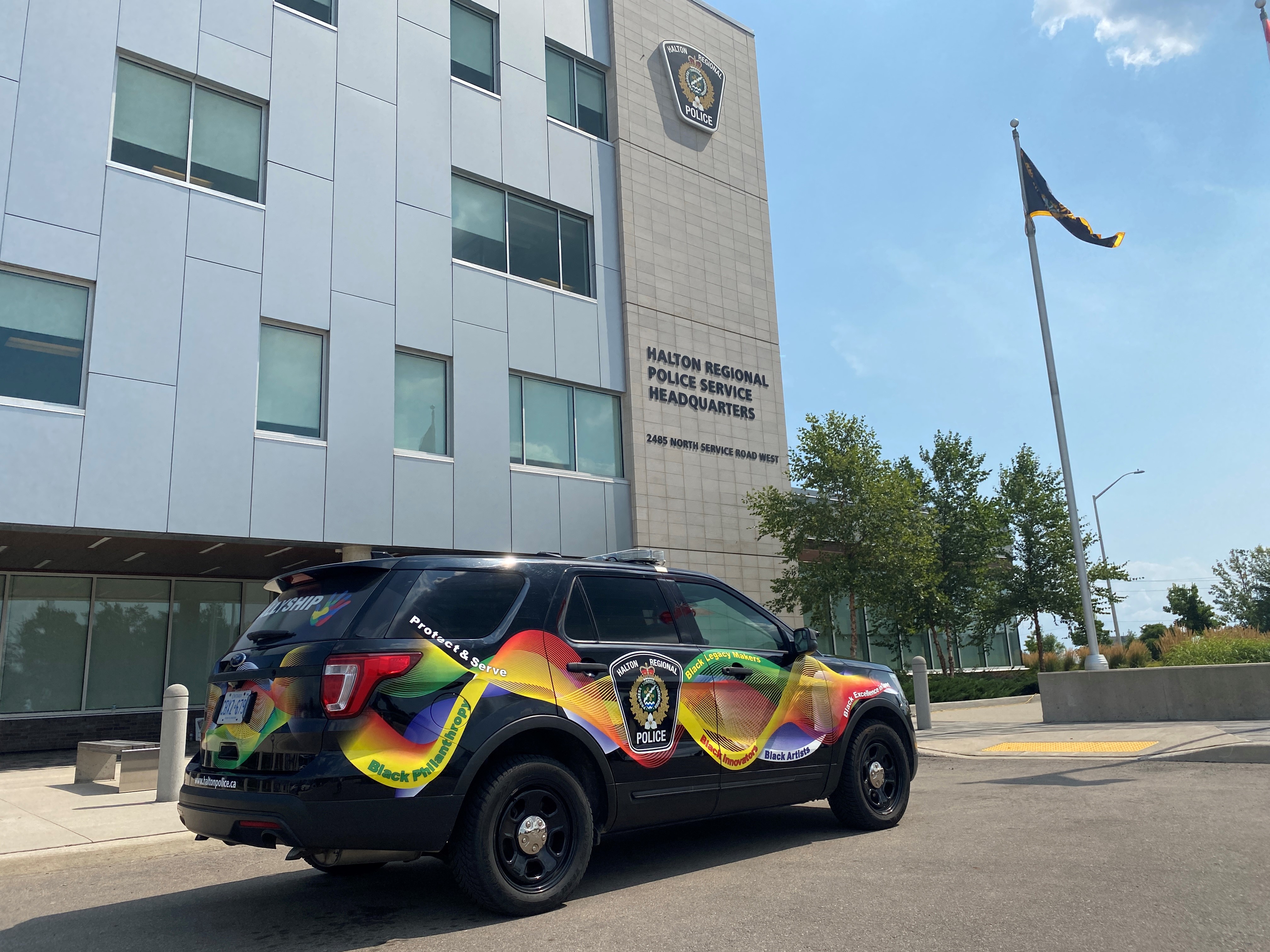 Posted on Thursday, August 26, 2021 02:30 PM
On Thursday August 26, 2021, the Halton Regional Police Service (HRPS) Black Internal Support Network and community partners gathered at Police Headquarters to unveil the HRPS Black Heritage Police Cruiser.
The cruiser design was conceived by the Queen of Heaven Catholic Elementary School's Inclusion, Diversity, Anti-Racism and Equity (iDARE) Committee, comprised of Bonnie Wiltshire, Valerie Nelson, Sokomba Effiong, Gabriella Ball, Margaret Keats, Andrea Domenico, Jane Thomas, and Amos Olujide. The...
Posted on Wednesday, August 25, 2021 02:15 PM
As children prepare to head back to school, the Halton Regional Police Service is once again getting ready to launch Project Safe Start. This will be the 14th year the Service has conducted their homegrown campaign, which focuses on education, awareness and high-visibility enforcement of traffic laws throughout Halton region.
Project Safe Start 2021 will run between Monday, August 30 and Friday, September 10, 2021.
It is important to remember driving safely is your priority:
Drive at a safe speed....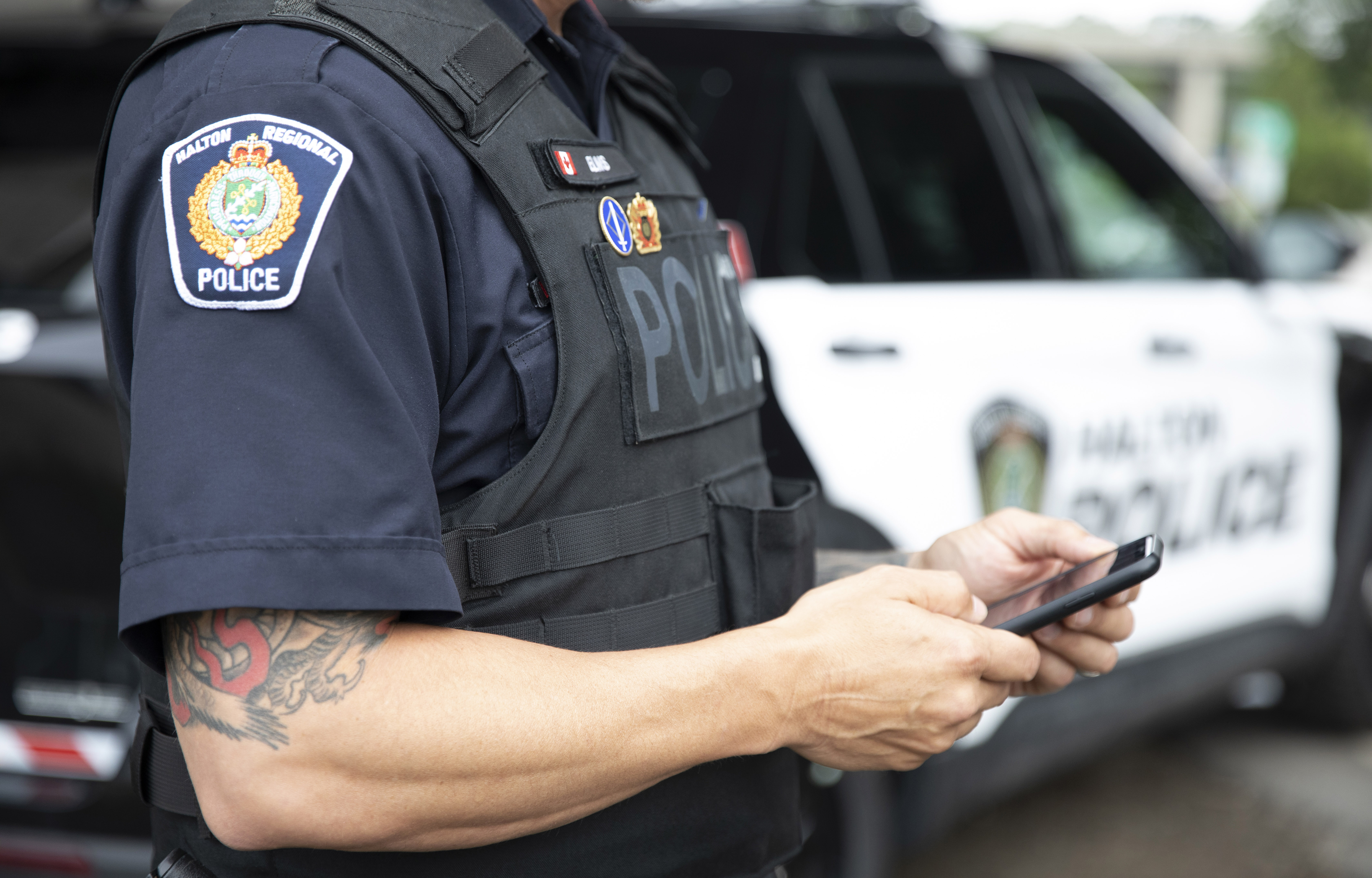 Posted on Wednesday, August 25, 2021 09:15 AM
The Halton Regional Police Service (HRPS) is proud to announce the adoption of electronic notes (eNotes). The HRPS is the first police agency in Ontario, and only the second in Canada, to transition their members from traditional paper-based notes to electronic notes.
"Note-taking in the policing sector has not evolved in over 100 years, and we are proud to be adopting technology that the newest generation of officers expect and want," says Deputy Chief Roger Wilkie. "This is just one...
Posted on Tuesday, July 27, 2021 08:00 AM
The first responder governed PSBN Innovation Alliance (PIA) – providing Canadian public safety wireless data governance, international coordination, and strategy – is pleased to announce that Intrepid Networks has joined our rapidly growing and dynamic association as a valued advisor member.
Intrepid Networks is an industry-leading innovator – creating mission-critical situational awareness, communication, and collaboration technology platforms enabling first responders to streamline their access...