The Halton Regional Police Service (HRPS) is honoured to receive the following acknowledgements from our community and our peers.
2020 OACP Traffic Safety Initiative of the Year Award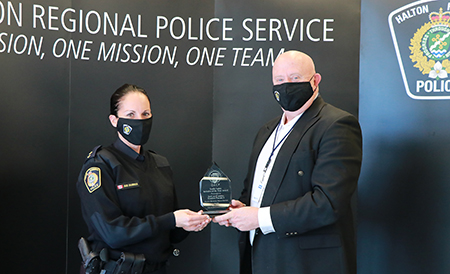 This award was presented to Inspector Julie Craddock and her team in the Strategic Management Office for their work on our In-Car Camera Systems, which are operational in many of the Halton Regional Police Service's cruisers.
"Traffic crimes cost society more, devastate more Ontario families and inflict more physical insult than all other crimes combined."
Every year in Ontario, concerned and motivated police officers implement numerous traffic safety initiatives on behalf of their respective agencies designed with the intent of reducing the incidence of death and serious injury attributed to motor vehicle collisions on the province's highways. Many of these programs prove to be extremely effective, show great creativity and involve innovative solutions. They also prove to our communities the level of commitment that Ontario's police services have towards traffic safety concerns.
Awarded annually by the Ontario Association of Chiefs of Police and sponsored by the CAA South Central Ontario, the "Traffic Safety Initiative of the Year Award" is presented to the police organization that creates, develops and implements Ontario's most successful traffic safety program.