The Halton Regional Police Service (HRPS) is honoured to receive the following acknowledgements from industry professionals and our community, highlighting the hard work and dedication of our members and our service as a whole.
AVA Digital Award - 2021

An Honourable Mention Award was presented to the Halton Regional Police Service (HRPS) through the AVA Digital Awards in recognition of the new haltonpolice.ca website.
In an effort to ensure our digital presence aligns with best practices in the industry, our service strategically partnered with eSolutions Group to build our new website, which launched in December 2020. This new website showcases improved content, navigation, accessibility, design and technology, and creates a strong online presence and experience that reflects our organization, while providing the public with improved access to everything we have to offer.
The AVA Digital Awards is an annual international competition that recognizes excellence by creative professionals responsible for the planning, concept, direction, design, and production of digital communication.
2020 OACP Traffic Safety Initiative of the Year Award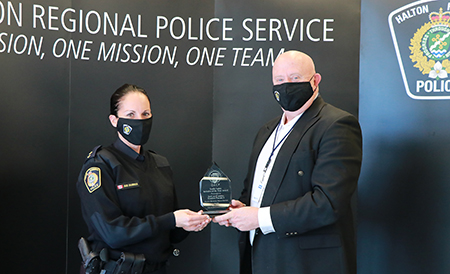 This award was presented to Inspector Julie Craddock and her team in the Strategic Management Office for their work on our In-Car Camera Systems, which are operational in many of the Halton Regional Police Service's cruisers.
"Traffic crimes cost society more, devastate more Ontario families and inflict more physical insult than all other crimes combined."
Every year in Ontario, concerned and motivated police officers implement numerous traffic safety initiatives on behalf of their respective agencies designed with the intent of reducing the incidence of death and serious injury attributed to motor vehicle collisions on the province's highways. Many of these programs prove to be extremely effective, show great creativity and involve innovative solutions. They also prove to our communities the level of commitment that Ontario's police services have towards traffic safety concerns.
Awarded annually by the Ontario Association of Chiefs of Police and sponsored by the CAA South Central Ontario, the "Traffic Safety Initiative of the Year Award" is presented to the police organization that creates, develops and implements Ontario's most successful traffic safety program.
2020 Canadian Young Project Manager of the Year Award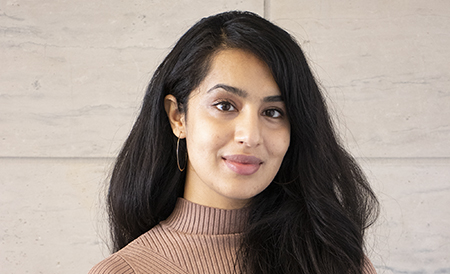 This award was presented to Navi Sartaj of the Strategic Management Office by the Project Management Association of Canada for her incredible work on our Police Video Project. This project utilizes innovative technologies and analytics to further our commitment to community safety and well-being. Despite unforeseen circumstances such as an aging infrastructure and the COVID-19 pandemic, Navi kept the project on track, within scope, on budget, and moving forward. Her ability to adapt and change approach methods through the pandemic led to the successful conclusion of this project, which in turn keeps the Halton Regional Police Service at the forefront of policing innovation and excellence.
The Project Management Association of Canada strongly supports the development of project management excellence in Canada through a number of different initiatives, including their project management awards programme.