The Halton Regional Police Service (HRPS) believes that everyone impacted by sexual assault should be treated with respect and dignity, fairness and honesty, and in a professional and bias-free manner.
You have the right to choose to report the sexual assault to police and/­or you can choose to speak to one of the community supports listed below.
If you, or someone you know, has been sexually assaulted and wants to report it to police, we encourage you to contact the Halton Regional Police Service:
If you are in immediate danger or the offender is still present, call 9-1-1.
For all non-emergency situations, please contact 905-825-4777.
For additional information and support please visit survivorsvoices.ca.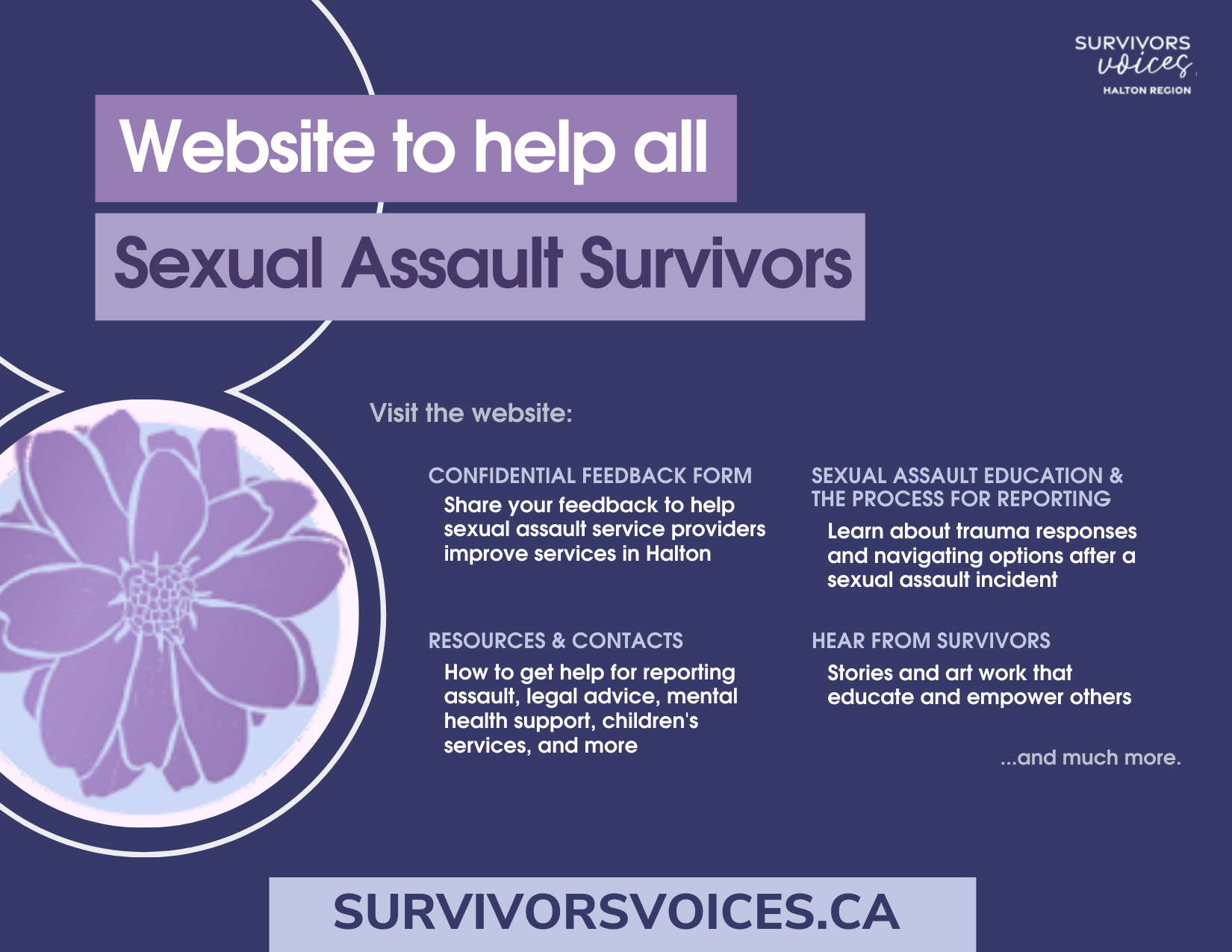 What is Sexual Assault?
Sexual assault is any touching of another person without their consent where the touching is of a sexual nature, or where the sexual integrity of the victim is violated. A sexual assault can range from unwanted touching to sexual assault involving penetration.
There is no statute of limitation when it comes to reporting a sexual assault. This means that no matter how long ago the sexual assault happened, you can still report it to police for investigation.
Anyone can be a victim of sexual assault, regardless of a person's gender, age, race, socioeconomic status, etc.
The term "victim" and "survivor" are used interchangeably as it relates to a person who has been sexually assaulted.
Consent
Consent is not given when:
You are unconscious
You are incapacitated by alcohol or drugs
You fear the consequences of not consenting
You feel threatened or intimidated
You are coerced (tricked, forced, etc.)
You are physically forced to comply
You are legally incapable of consenting to the activity (i.e.: under legal age, medical condition, mental capacity etc.)
*Consent must be given verbally or by physical action.
**It is important to understand that if you did not say "no" either verbally or physically, it is not assumed you have given consent or said "yes."
What happens when you report a sexual assault to police?
The HRPS approaches sexual assault investigations in a victim/survivor-centric way. Specially-trained Victim Services Unit (VSU) members reach out to victims/survivors as soon as possible to provide support and review the HRPS Sexual Assault Information Guide.
Using the HRPS Sexual Assault Information Guide, the VSU ensures that survivors are fully informed of their rights and options, while also providing emotional support and compassion. Survivors are informed of the sexual assault investigation process, the court process, coping strategies, and provided with information about community resources and supports. This helps to ensure that all survivors receive the same level of support and care, when they need it most.
It is important to note that wherever possible, HRPS Child Abuse and Sexual Assault (CASA) Investigators will respect the wishes of a victim to either continue with or discontinue an investigation.
Sexual assaults with a public safety concern
Sexual assault investigations that involve concerns to public safety will be continued vigorously in order to identify the person(s) responsible. Public safety is a concern when there is a stranger sexual assault or one of a predatory nature where other victims are at risk. Where grounds exist to pursue criminal charges, the victim will be consulted on how they wish to proceed (by charge or a caution). Investigators will work with the victim throughout the investigative process and always consider their wishes/input.
Sexual assaults committed by an intimate partner
If a sexual assault was committed by an Intimate Partner it falls under the government legislated mandatory charge policy. Those cases are investigated by the Intimate Partner Violence Unit and where grounds exist, charges will be laid.
For information about intimate partner violence, visit our Intimate Partner Violence page.
HRPS Child Abuse and Sexual Assault (CASA) Unit
The Halton Regional Police Service investigates all reported cases of child abuse and sexual assault.
The CASA Unit has officers specially trained in the area of investigating offences against children and sexual assault investigations. The training is focused on consistent and thorough investigative practices while respecting the needs of the victims' and witnesses. This training is designed to enhance investigations by promoting best practices, in addition to victim sensitivity.
All cases involving sexual abuse of a child, as well as specific offences related to child abuse, are investigated by the Child Abuse and Sexual Assault Unit (CASA). The HRPS has a Memorandum of Understanding with the Children's Aid Society of Halton, meaning that we regularly conduct joint CASA and CAS investigations in order to best support child victims and their families.
For information about child abuse and the CASA Unit, visit our Child Abuse page.
Supports in the community
The following is a list of valuable support services and resources in Halton for victims of violence and/or sexual assault:

Halton Regional Police Service Victim Services Unit 905-825-4777

Nina's Place Sexual Assault and Domestic Assault Care Centre 905-336-4116 or 905-681-4880

Sexual Assault and Violence Intervention Services (SAVIS) 905-875-1555 (24-hour crisis line)

Radius Child & Youth Services 905-825-3242 (Oakville) or 1-855-744-9001

Kids Help Phone 1-800-668-6868 (24-hour crisis line)

THRIVE Counselling 905-845-3811 or 905-637-5256
More Information
More information about the sexual assault investigative process can be found in the HRPS Sexual Assault Information Guide.