Executive Command
The Halton Regional Police Service's (HRPS) 718 uniformed officers, 302 civilian staff and more than 200 volunteers work together to keep the communities of the City of Burlington, Town of Oakville, Town of Milton and Town of Halton Hills as safe tomorrow as they are today.
Leading the Service are Chief Stephen Tanner, Deputy Chief of District Operations Roger Wilkie, and Deputy Chief of Regional Operations Jeff Hill. Together with the women and men of the HRPS, they work diligently to improve community safety, prevent, reduce and solve crime and respond to the public's calls for service.
Read a Message from Executive Command
District Leadership
To ensure residents and visitors receive the highest standard of policing services, HRPS operations are divided into three distinct Districts, each overseen by a Superintendent and an Inspector. Patrol responsibilities for each District are divided across four platoons, each led by a Staff Sergeant and three Sergeants. Uniform operations are supported by the Criminal Investigations Bureau, Community Mobilization Bureau, District Response Team, and civilian and volunteer staff who deliver frontline policing services 24 hours a day, 365 days a year.
1 District – Milton and Halton Hills
Superintendent Dave Stewart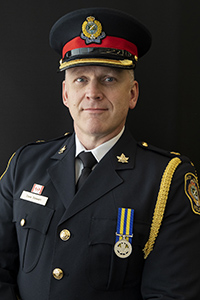 As Commander of 1 District, Superintendent Dave Stewart is responsible for police operations in Milton and Halton Hills (Georgetown and Acton).
Superintendent Dave Stewart began his career with the HRPS in 1995. He has served in uniform operations throughout Halton Region and has worked in a variety of specialized units including Street Crime, Criminal Investigations Bureau, Drug and Human Trafficking Unit, Child Abuse and Sex Assault, Collision Reconstruction and as the Detective Sergeant of Intelligence/Covert Operations. He also served as the Executive Officer to the Deputy Chief.
Dave has led several areas in an executive role as the Operations Inspector of 2 District – Oakville and Regional Investigative Services - Drug and Human Trafficking Unit & Intelligence as well as the Commander of Human Resource Services/Organizational Wellness Unit.
Dave was promoted to Superintendent in 2020, and in June of 2021, he started in his current role as District Commander of 1 District (10/11/12 Divisions).
Dave holds a Bachelor of Arts Degree in History from Carleton University and a Bachelor of Arts Degree in Political Science from McMaster University. He is a graduate of the Police Executive Leadership Program and in 2020 was awarded a certificate of Excellence in Executive Leadership, from the University of Toronto's Rotman School of Management.
In 2015, Dave was the recipient of the Police Exemplary Service Medal.
As a longtime resident of Halton Region, Dave has served the community through various volunteer activities, including committee work with ABLE (Association of Black Law Enforcers), Our Kids Network, Canadian Caribbean Association of Halton, Halton Healthcare and Joseph Brant and the Halton Interfaith Council.
Dave is a strong proponent of community safety and well-being, focused on working collaboratively with stakeholders towards upstream intervention, ensuring Halton is a safe, inclusive and thriving community. Dave was a key member in the development of the Halton Community Safety and Well-being Plan.
Inspector Bruce Dickson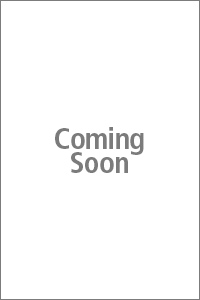 Inspector Dickson began his career with the HRPS in 2000. Bruce spent the first five years of service in uniform patrol in both Burlington and Oakville before transferring into the Emergency Services Unit in 2005. Over the next nine years he served on the Tactical Rescue Unit, as a Constable and later a Sergeant. From 2014 to 2017, Bruce served as a Sergeant in Uniform Patrol and the Intimate Partner Violence Unit. In 2018, Bruce returned to the Tactical Rescue Unit as the Staff Sergeant. In January 2022, Bruce was promoted to the role of Inspector in 1 District.
In 2021, Bruce received the Police Exemplary Service Medal.
Bruce is a graduate of Simon Fraser University in Vancouver.
Before joining the Halton Regional Police Service, Bruce enjoyed a successful career in the Canadian Football League, winning two Grey Cups with Toronto and the Edmonton.
He remains active in the community and volunteers as a football coach at St. John Henry Newman Catholic School in Hamilton.
2 District – Oakville
Superintendent Jeff Sandy
Superintendent Jeff Sandy began his policing career with the HRPS in August 1997.
Jeff is one the Service's six Critical Incident Commanders, responsible for overseeing high risk incidents in the Region. He is the former Chair of the Ontario Association of Chiefs of Police Incident Response Sub-Committee and is currently the Chair of the Ontario Association of Chiefs of Police Education, Training & Professional Development Committee.
Throughout his career, Jeff has come to recognize the importance of supporting our communities through collaboration and mobilization and has made contributions to service delivery enhancements in the areas of incident response, training and professional development of sworn and civilian members, mental health response and diversity/inclusivity programming.
Jeff began his tenure as the Superintendent of 2 District in Oakville in January 2020. He is committed to responding to local priorities and risks through collaborative strategies in support of the Service's Framework for Community Safety and Well-Being.
Inspector Crystal Dodds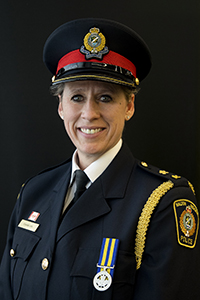 Inspector Crystal Dodds began her career with the HRPS in 1995 assigned to 1 District uniform patrol. Over the past 27 years, she has worked Uniform Patrol and in the Criminal Investigations Bureau in all four districts. Crystal has also led teams in specialized units such as the Community Mobilization Bureau from its inception with Service and, more recently, the Child Abuse and Sexual Assault Unit. Crystal continues her work of the past 10 years as a part-time member of the Emergency Services Unit as an on-call Crisis Negotiator.
Crystal earned a Bachelor of Arts Degree in Law and Justice from Laurentian University, an Honours Diploma in Law and Security Administration from Georgian College and is working towards a Masters Degree in Leadership and Management in Policing. Crystal believes that the community and police must work collaboratively towards success. To better serve Halton's Deaf Community, she has taken more than 15 courses in American Sign Language (ASL) in an effort to attain a stronger understanding of Deaf Culture and the language. In 2010, she launched the Halton Regional Police Service Sign Language Program so that all members of the service could participate in ASL classes; this program continues to be an opportunity for her colleagues service-wide.
Crystal has been a prominent volunteer in each of our communities throughout her tenure. In addition to actively contributing to community-led events as a police liaison, for the past 5 years, she has been on the Board of Director for the Townsend Smith Foundation and currently holds the position of Vice-Chair. The Townsend Smith Foundation is a charitable organization working to build a hospice home in North Halton. Crystal believes that we are all "Stronger Together" and continues her commitment to working towards - and celebrating - inclusion for all in Halton Region.
3 District – Burlington
Superintendent Derek Davis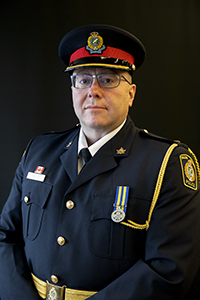 Superintendent Derek Davis began his career with the HRPS in 1997. Derek has worked in uniformed patrol operations in Milton, Halton Hills, and Burlington at all rank levels. Throughout his career he has had the opportunity to work in a variety of specialized units including Street Crime, District Criminal Investigations, Joint Forces Guns and Gangs, Training Bureau, District Response, and the Office of Continuous Improvement and Strategic Management (OCISM).
As a senior officer, Derek has served as a District Operations Inspector, OCISM Commander, and most recently as the Commander of the Strategic Management Office (including Records, Communications, Program Support, Policy, Planning, Emergency Management).
Derek spent several years in Burlington as both as a patrol Sergeant and Platoon Staff Sergeant. He is very pleased to return to Burlington in 2022 in role of District Commander.
Inspector John Van der Lelie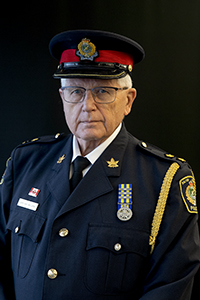 Inspector John van der Lelie has been a member of the HRPS since 1967. His service has included duties in Uniform Patrol, Criminal Investigations, Professional Standards and the Office of the Chief. He was also seconded to the Offices of the Ministry of the Attorney General for one year to audit the SIU and a further ten-year secondment to the Ontario Ministry of the Solicitor General to implement the finding of Justice A. Campbell's recommendations for a province-wide Major Case Management System.
Inspector van der Lelie is graduate of the FBI National Academy and the recipient of the Police Long Service Medal and Bar.