The Halton Regional Police Service has partnered with 529 Garage to introduce their bicycle registration app to residents of Halton. 529 Garage is an application that connects you, other cyclists, police, and local bicycle shops in the event your bicycle is stolen.
Registration is easy - simply download the app, input your contact information and bicycle serial number, and upload photos of yourself and your bicycle. Registrations can also be made on the 529 Garage website if you do not have a smart phone or tablet.
Once you have registered your bicycle on the app, if it is stolen or goes missing, you can notify 529 Garage and they will issue an alert from the app that is sent to other local cyclists and bike shops alerting them to the missing bicycle.
Once an alert for your bicycle has been posted, the app will also direct you to the HRPS online reporting tool where you can report it to police. By registering, if a bicycle is recovered, it is easier for police to identify and return the bicycle to the proper owner.
Additionally, 529 Garage Decals will also available to be placed on your bicycle after you have registered. These tamper proof decals act as a visual deterrent letting would be thieves know that your bicycle has been registered. Decals are available through the 529 Garage app.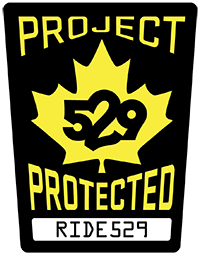 Participating Bicycle Shops in Halton
Burlington:
Rolling Horse Cycle
Unit 2 - 650 Plains Rd. East, Burlington, ON
Rock and Road Cycle
2501 Guelph Line Burlington, Ontario
Neworld Cycle
560 Plains Rd E, Burlington, Ontario
Frequently Asked Questions
How to Report a Bike Theft?

In the unfortunate event that your bicycle is stolen, the first thing you should do is report the theft to the local police service in the jurisdiction in which your bike was stolen. Once you have reported the theft to police, you can then report the theft through the 529 Garage app and send out an alert to other cyclists in your vicinity alerting them to the theft.


How is my information shared?

Only police personnel will have access to the full database. If you have to issue an alert about a stolen bicycle, you can choose what contact information to release.


How do I get a 529 Garage Shield Decal?

The Shield Decals can be obtained through the 529 Garage app.


Where do I find my bicycle serial number?

Serial numbers are usually stamped into the bicycles frame a) under or on top of the crank, b) around the headset, c) on the rear stay tube, or d) down the back of the seat tube near the crank. Be sure to keep a photo of your serial number.


Do I have to file a police report?

Yes. In order for us to release the bicycle to you, we must verify that you are the proper owner. By filing a police report, you are providing us a record for accountability. Reporting is easy and can be done using our Report a Crime tool.


Someone has found my bicycle, can I go get it?

No, never attempt to recover a stolen item without contacting police.


If my bicycle is registered, how do I sell it?

If you are selling your bicycle, through the app you can forward your bicycle's registration and non-identifying photos to the new owner.


How does the cycling community help?

Any other cyclist within a 15km radius who has the app on their smart phone or tablet will receive an alert notifying them to the missing bicycle. If anyone then spots your bicycle, they can then notify police and send you notifications.
Tips for Securing your Bicycle
Never rely on a cable lock

Never rely on a cable lock as your primary security device. Cable locks can be defeated easily in minutes with inexpensive tools. Over 40 per cent of outdoor bicycle theft is a result of defeated cable locks.



Always use a designated bicycle rack



Always use a designated bicycle rack - street signs, parking meters and fences are more easily defeated than dedicated bicycle racks. In this image, the thief can simply remove the sign using a $5 tool and slip the double-locked bicycle over the top of the pole.



Secure your helmet and accessories



Secure your helmet and accessories - thieves like to travel safely (and helmets help them blend in). They will also use accessories to increase resale value on other bicycles.



Always lock your bicycle wherever it is



bicycles disappear from car racks, home garages, parking garages and storage units frequently (nearly half of urban thefts). By locking a wheel to the frame, you force the thief to break the lock before they can ride it.



Don't Park Perpendicular



Don't park perpendicular to the rack. Staple racks are designed for the rider to park parallel to the rack and placed to minimize interference with foot or vehicle traffic. It will also support your bicycle from falling over better!



Don't give them leverage



Always lock your wheel and frame together to the bicycle rack. Locking just your top tube might save you seconds, but can give the bicycle thief leverage to attempt to break the U-lock with a violent twisting motion. Even if unsuccessful, your bicycle might get seriously damaged.



Always buy from reputable sellers



If you're buying a used bicycle from an individual, ask to meet in a public place and verify their phone number (by calling them) and their name (by checking ID). If they are reselling multiple bicycles, ask for their 2nd hand reseller permit. Also, flip the bicycle and run the serial number on 529 Garage. If the seller isn't comfortable, you shouldn't be either.



Always lock up to a solid rack



This might be a bit extreme, but we get reports all of the time from people who have locked to wooden handrails, chain linked fences or other easily defeated objects. Make sure that what you're locking to is similarly challenging to defeat as your lock.



Always lock the wheel and frame



By locking the wheel and frame together, you disable the bike from being ridden until the lock is defeated. It also makes it more challenging for the thief to defeat the lock. In the event that they overcome the object you've locked to, they will need to carry it away.



Add a 529 Shield Decal



Adding a 529 Shield Decal to your bicycle discourages theft by letting would-be-thieves know that the community and police will be alerted if it goes missing. It also helps law enforcement easily identify your bicycle and return it more easily.



Always report thefts (and prowls) to police



If you don't report it, the police don't know it happened and prioritize efforts accordingly. A police report is also necessary for insurance claims or to retrieve your bicycle from the police. Reports can be made by contacting the HRPS at 905-825-4777.



Use a U-Lock (at minimum!)



A good quality U-lock is going to require more time and more expensive tools to attack than weaker locks. Aim for a minimum shackle diameter of 12mm, and make sure both sides of the shackle lock.



Always park at dedicated bicycle racks



bicycle racks are designed to be secure and placed deliberately in your community to serve the needs of all. Locking illegally can be less secure and it might get impounded by the city or property owner.



Always make sure your lock secures your frame



If you're in a rush, or locking to an unfamiliar type of rack, tell yourself to slow down and make sure that you've secured the bicycle completely.
Contact Information
For additional information about 529 Garage, contact:
https://project529.com/garage
905-825-4777 ext. 2359