Posted on Monday, March 21, 2022 02:41 PM
The Halton Regional Police Service (HRPS) has completed its annual "Towbruary" Tow Enforcement Campaign, and the results were staggering.
Throughout the month of February, the HRPS Traffic Services Unit and our District Response Units conducted a number of tow truck inspection blitzes across Halton. A joint inspection blitz was also carried out with Hamilton Police Service on the border of the two jurisdictions. These enforcement activities resulted in the following:

Posted on Monday, March 14, 2022 03:30 PM
The Halton Regional Police Service (HRPS) is seeking the public's assistance in locating 19 year-old Heather Stoodley.
Investigators believe that Heather is travelling with her father, Jeffrey Stoodley, and they may have relocated to the Sudbury area. Police have been unable to make contact with them and confirm their location.
They were last seen in October of 2021 in the area of Meadowbrook Road in Burlington.
Heather is described as white and approximately 5'7" tall. She has a medium build with...

Posted on Friday, February 25, 2022 09:35 AM
The Halton Regional Police Service (HRPS) is asking residents to be mindful of how they store their electronic devices as emergency features on both iOS and Android devices are contributing to a concerning trend where high volumes of 'false' 9-1-1 calls are being made.
This morning, within minutes of an Amber Alert being issued by the Waterloo Regional Police Service, our Communications Bureau received two dozen accidental 9-1-1 calls as a result of people trying to turn off the alert and inadvertently...

Posted on Thursday, February 24, 2022 02:03 PM
The Halton Regional Police Service (HRPS) is pleased to announce it has been awarded $200,000 in funding through the Ministry of the Solicitor General's new Victim Support Grant. The grant, to be issued over a two-year period, will facilitate an expansion of supports offered to victims and survivors of intimate partner violence in Halton region through a multi-pronged strategy.
Collectively, these complementary, victim-centric strategies focus on enhanced partnerships between police and non-police...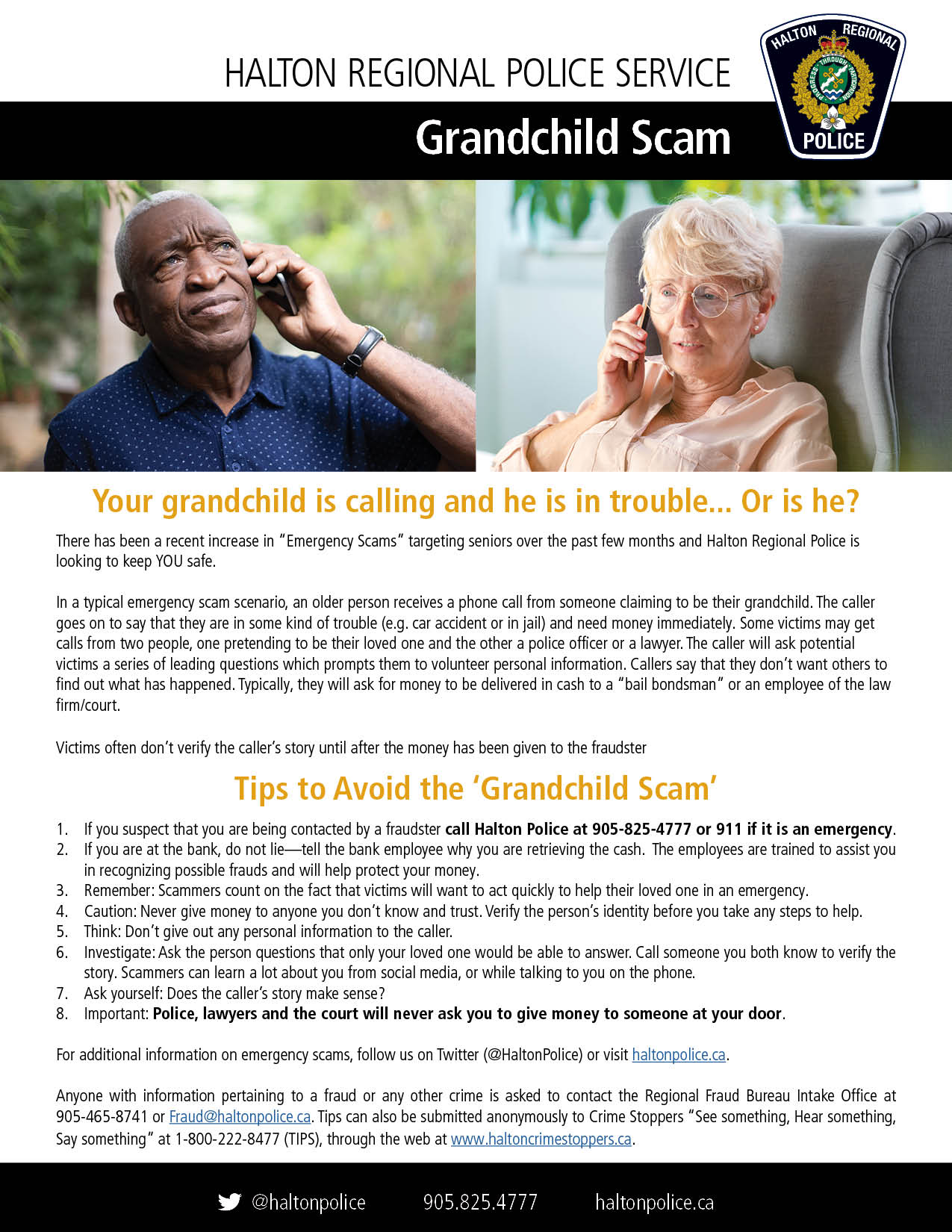 Posted on Friday, January 28, 2022 08:15 AM
Your grandson is calling and he is in trouble. Or is he? -

There has been a recent increase in "Emergency Scams" targeting seniors over the past few months and the Halton Regional Police Service is looking to keep YOU safe.

In a typical emergency scam scenario, an older person receives a phone call from someone claiming to be their grandchild. The caller goes on to say that they are in some kind of trouble (e.g. car accident or in jail) and need money immediately. Some victims may get calls...