Posted on Thursday, September 03, 2020 12:00 AM
On August 22nd 2020, at approximately 4:10 PM, an unknown suspect attended the Brilliant Gold Jewellery store at the Georgetown Marketplace and proceeded to steal a large quantity of jewelry from a display case while the employees were engaged with other customers in the store. The suspect was last observed when he fled the scene on foot.
If you have any information on this case, please contact the HRPS or Crime Stoppers.
Posted on Sunday, July 12, 2020 12:00 AM
On July 3rd, 2020, at approximately 2:30am - Unknown female and unknown male suspects attended the Petro Canada located at 1200 Walkers Line Burlington. Suspects attempted to use stolen credit cards to purchase lotto tickets and other merchandise. Suspects left in a black SUV with no front plate possibly a Hyundai. The female suspect then committed a similar offence in the Niagara Region that afternoon.
Suspect 1: Female, white, early 20's, 5'5, 140 lbs, thin build, brown hair in a pony tail, white...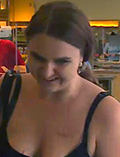 Posted on Thursday, July 02, 2020 12:00 AM
On 02 July 2020, an unknown female suspect attended the LCBO located at 321 Cornwall Road in the Town of Oakville and stole alcohol with a total value of $22.60.
Suspect: Female, White, in 20's, dark brown hair, wearing a black tank top, striped shorts, black flip flops and carrying a black purse. The suspect had a large tattoo on her left bicep.
Tips can also be submitted anonymously to Crime Stoppers, 'See Something? Hear Something? Know Something? Contact Crime Stoppers' at 1-800-222-8477 (TIPS)...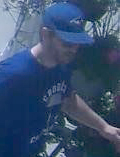 Posted on Saturday, June 13, 2020 12:00 AM
On Saturday, June 13, 2020, at about 3:26 p.m., the suspect attended the Canadian Tire located at 777 Guelph Line in the city of Burlington. He selected an iRobot Roomba vacuum and some other smaller items and then walked directly out of the store passing by all points of sale without paying for the merchandise. Outside he was confronted by store security but continued to walk away. The merchandise was recovered when he stumbled getting into a silver Dodge Durango waiting outside in the lot. The...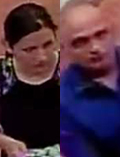 Posted on Friday, June 05, 2020 12:00 AM
On 05 June, 2020, three unknown suspects (two male one female) attended the Fortinos located at 5111 New Street in the City of Burlington and stole groceries with a total value of $1226.23.
Suspect 1: Female, olive complexion, in 40's, approximately 5'8' tall, and 160lbs. Dark brown hair wearing a black sleeveless shirt, black pants and black dress shoes.
Suspect 2: Male, olive complexion, in 40's, approximately 6' tall and 190lbs. Bald shaved head, wearing a navy blue long sleeve shirt, blue...