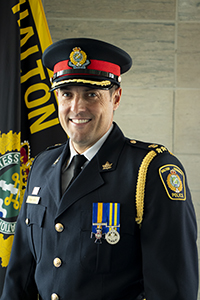 Contact Deputy Chief Wilkie
Phone: 905-825-4777 ext. 4702
Twitter: @DeputyWilkie
Roles and Responsibilities of the Deputy Chief of District Operations
As Deputy Chief of District Operations of the Halton Regional Police Service (HRPS), Deputy Chief Roger Wilkie is responsible for the following areas of the HRPS:
1 District (Town of Milton and Town of Halton Hills)
2 District (Town of Oakville)
3 District (City of Burlington)
Regional Community Mobilization
Strategic Management Office
Strategic Initiatives
Information Technology
Biography
Deputy Chief Roger Wilkie began his career with the HRPS in 1996. Throughout his career he has served in uniform operations in the Town of Milton, Town of Halton Hills, City of Burlington and Town of Oakville. He has worked in the Drug Unit, Mobile Surveillance Unit, Homicide Unit, Criminal Investigations Bureau, Domestic Violence Unit and as the Executive Officer to the Deputy Chief.
He has also led several areas as the Operations Commander in Milton and Halton Hills, District Commander in Oakville, Critical Incident Commander for major public safety incidents and the Commander of Emergency Services, Training, and Human Resource Services.
He was promoted to Deputy Chief of Regional Operations in 2018, and in October 2019, he started in his current role as Deputy Chief of District Operations.
Deputy Chief Wilkie holds a Bachelor of Arts Degree in Psychology and Criminology from Brock University and is a graduate of the Police Executive Leadership Program from the University of Toronto's Rotman School of Management. He is also a recipient of the Order of Merit of the Police Forces.
As a proud resident of the Halton Region, Deputy Chief Wilkie has served the community through various volunteer activities, including his current role as the Chair of the Executive Board of Directors for the Reach Out Centre for Kids (ROCK).
Deputy Chief Wilkie believes that community safety and well-being is a shared responsibility and is committed to mobilizing and engaging the community and key stakeholders to ensure that the Region of Halton is as safe tomorrow as it is today. He believes in the importance of collaborative and coordinated service delivery and was instrumental in the development of the Halton Region's Situation Table Strategy and Community Safety and Well-being Plan.