As a result of COVID-19, the Honour Guard has suspended their activities. Please check back here for updates.
The Halton Regional Police Service (HRPS) Honour Guard takes great pride in representing the men and women of the HRPS with dignity, respect, and integrity.
Events
The HRPS Honour Guard can be seen marching in events such as: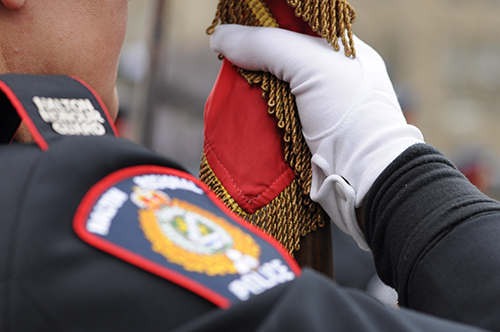 Remembrance Day,
New recruit graduations,
Police funerals,
Police Day and other community events.
History
Established in 1996, the Honour Guard represents the history and tradition of policing in Canada. With over 70 members strong, the Honour Guard carries the Queen's Colours, showcases Canadian Armed Forces foot drill, and is our formal police presence at events and functions.
The Honour Guard attends 50 - 60 events a year. Members donate their time at these events and to attend practices to ensure the level of drill is at the highest standard.
The Queen's Colours
In 2005, the HRPS was granted the privilege and honour of being presented "Colours" by the Lieutenant Governor of Ontario. Only eight police services in the province have this distinction.
The Service Colour is similar to the HRPS flag in appearance. It is silk with the Service Crest mounted on a blue background denoting that the Colour is that of a police service.
The Queen's Colour is also silk and looks similar in appearance to the national flag of Canada. It differs in that the HRPS name is embroidered within the maple leaf on the centre portion of the flag.
Both Colours were consecrated and are treated with honour at all times. When flown, they are saluted and given appropriate 'compliments' by uniform members of the police and military.
The Colours are symbolically protected by the 'Colour Party' or 'Escort to the Colours' who are armed with C7 rifles and fixed bayonets.
Contact Information
For more information about the HRPS Honour Guard, contact:
Email: honour.guard@haltonpolice.ca