Your home's front and back doors are the quickest and easiest places to enter your home. The Halton Regional Police Service (HRPS) would like to remind residents that the quality and security of all outside doors is the first step in protecting your home and/or business against burglars.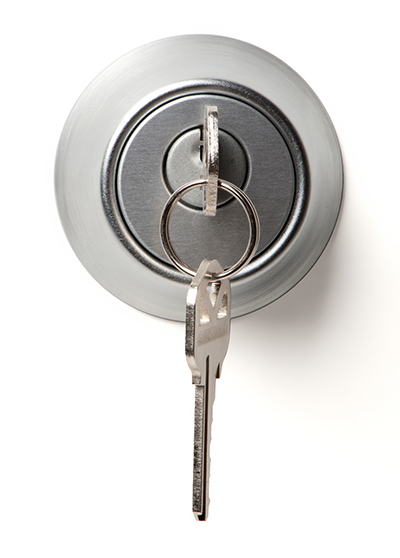 Doors
The quality of your front and back doors is as important as the lock installed on them. Higher quality doors are more secure and will provide more resistance to someone trying to force your door open.
We recommend that hollow core or corrugated cardboard filled doors are replaced with steel or solid core wooden doors.
French or Double Doors
If you have French or Double exterior doors, it is important that one of the doors is properly secured so only one door is active.
If the doors have glass panes, install long slide bolts at the top and bottom of the door you are bracing.
On the active door, install a jimmy-proof deadbolt with a double cylinder. This lock not only secures the active door, but it also bolts the two doors snugly together.
Sliding Glass Doors
If you have a sliding glass exterior door, it is important to ensure the doors are properly secured.
Install "jimmy-plates" or screws at the top of the tracks to reduce any vertical play in the doors.
Install a "Charlie Bar" or other horizontal folding device which blocks movement of the sliding portion of the door.
Place a metal rod, broom, or hockey stick cut down and along the bottom of door tracks.
Locks
While no lock can make a house, store, or office burglar-proof, good locks can be an effective deterrent against break-ins. The more difficult the lock, the less likely a culprit will attempt to or succeed in breaking in.
The lock suggestions and tips below can help provide better security for your exterior doors:
Install deadbolt locks on exterior doors. Deadbolts cannot be slipped with a card or shim tool, usually contain a slip ring feature which prevents the cylinder from being twisted off, and have strike plate or a wrap-around door guard to reinforce the door around the lock.
Install Interlocking Bolt Rim Locks. These are two vertically moving deadbolts that lock into a frame-mounted striker so that the lock and striker are firmly interlocked.
If your doors open outward, you must ensure that your exposed hinges are secured. Ensure that your door is equipped with non-removable hinge pins so an intruder cannot gain entry by swinging the door on the lock after removing the pins.
Reinforce your door frames by filling any gaps between the wall and the frame, making it harder to force the door off the frame.
If you install a double cylinder door lock, be sure to leave a key in the inside cylinder in case you need to exit in an emergency.
HRPS Project Safeguard
Did you know that you can request a home security inspection conducted by a member of the HRPS Auxiliary Policing Unit? Visit our home security inspections page for more information.